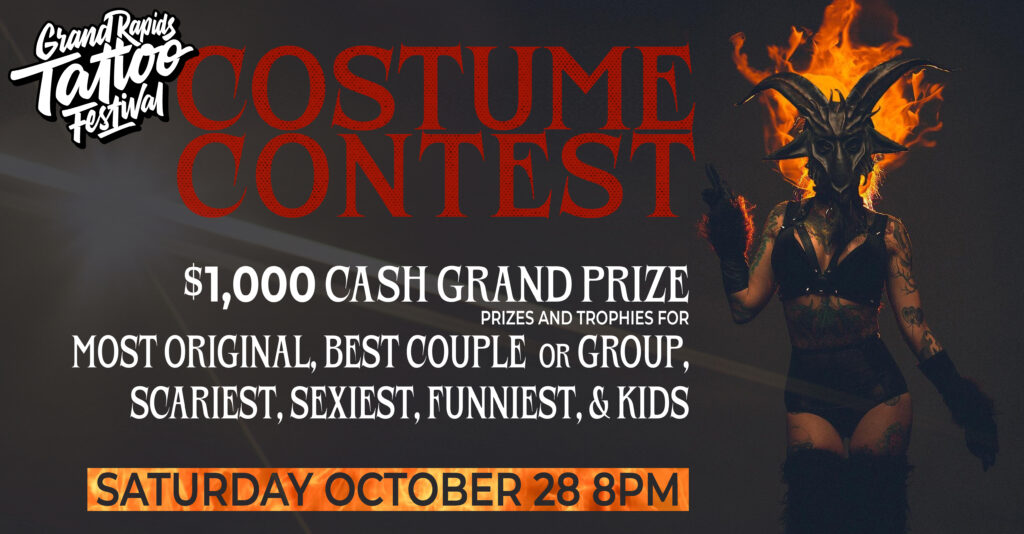 The Grand Rapids Tattoo Festival is hosting the cities' best Costume Contest! Overall winner will take home a $1,000 Cash prize on the spot.
There is a Trophy for 1st in all categories and Overall. Each category winner will also take home a swag bag with goodies and various Gift Certificates.
Kids- Funniest- Most Original- Scariest- Sexiest- & Best Couple or Group
Judging Starts Promptly at 8pm with Kids.
Regular Tattoo Festival admission applies. $30 day Adult, Children 12 & Under are free. Your Festival admission fee also allows you to enjoy everything the festival has to offer on Saturday. Get a tattoo, enjoy the atmosphere, watch tattoo contests, or have a cold beverage.
There is no additional entry fee for the costume contests.
Costume Contest Categories & Prizes
Trophy for 1st in all categories
Scariest – 4 Passes to Grand Rapids Ghost Tour by US Ghost Adventures
Funniest – Tuesday Movie tickets to Wealthy Theatre and concession vouchers
Most Original – Prize Package from INKcrate, 2 Tickets to an upcoming Grand Rapids Gold Game
Sexiest – $250 Gift Card to Nice & Naughty
Best Couple or Group – 4 Tickets to an upcoming Grand Rapids Gold & Grand Rapids Griffins games
Kids – Prize Pack from Kids & Kreatures, 4 Tickets to an upcoming Grand Rapids Gold game
Overall – $1,000 cash, T-Shirt, Socks, & Pins from InkAddict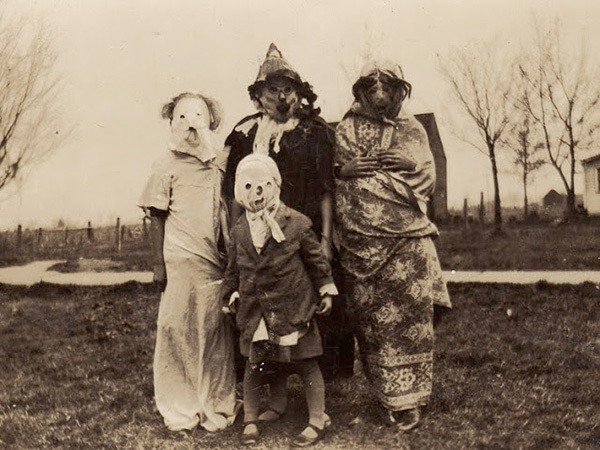 COSTUME CODE OF CONDUCT:
At the discretion of the Grand Rapids Tattoo Festival Organizers and Security onsite, the following may be allowed:
Lightweight Plastic/PVC Props/Light Sabers

Toy guns as long as they do not look like real ones, cannot function or shoot projectiles and have an orange tip on the barrel.  The barrel of all prop firearms must be covered with brightly-colored caps. 
If any of the above items are deemed unsafe by the Grand Rapids Tattoo Festival Security, they will not be allowed inside the building. They will only be allowed as long as they are deemed safe and will not cause harm onsite.
If you're bringing something that could maim, damage or cause bodily harm, we're going to take issue.
The following items are forbidden at the Grand Rapids Tattoo Festival and the Grand Rapids Tattoo Festival Costume Contest:
Functional firearms (including air soft guns, BB guns, cap guns, paintball guns and pellet guns)

Realistic replica firearms (including reproduction, fake or toy guns that can be confused for functional firearms)

Functional projectile weapons (including blow guns, crossbows, long bows, silly string, slingshots, water balloons and water guns)

Sharpened metal-bladed weapons (including axes, daggers, hatches, knives, kunai, shuriken, swords, sword canes and switch blades)

Explosives (including firecrackers and fireworks)

Chemical weapons

Blunt weapons (including brass knuckles, clubs and nunchaku)

Hard prop weapons (including props made of metal, fiberglass, PVC, wood and glass)

Instruments that cause excessive noise levels like vuvuzelas, grenade whistles and grenade horns

Whips

Drones
Weapons and Bag Check
Management shall have sole discretion in any matter that it believes may affect public safety or be important to protect the integrity of the event.
Costuming/Cosplay Is NOT CONSENT: Please keep your hands to yourself. If you would like to take a picture with or of another Grand Rapids Tattoo Festival attendee, always ask first and respect that person's right to say no. When at the Grand Rapids Tattoo Festival, be respectful, be nice, be cool, and be kind to each other.
The Grand Rapids Tattoo Festival is an all-ages, family event. Please be aware and respectful of your surroundings and audience. 
The Grand Rapids Tattoo Festival Management and Security have the right to allow or deny any costuming or props. Failure to comply with the instruction of Management and the  aforementioned rules and guidelines will result in your removal from the festival.
See you at the Grand Rapids Tattoo Festival!